Golf Course Info
Sage Hills Course map Golf Course Information
Pro Shop Hours - 7am to 7pm
Championship Golf Course
18 Holes - Par 71
Power & Pull Carts Available
Club Rentals
Putting & Chipping Greens
Tournaments Welcome

4 Sets of Challenging Tee Blocks
Black 6591 Par 71.6/125
Blue 6319 Par 70.4/123
White 5902 Par 68.2/121
Gold 5128 Par 70.2/121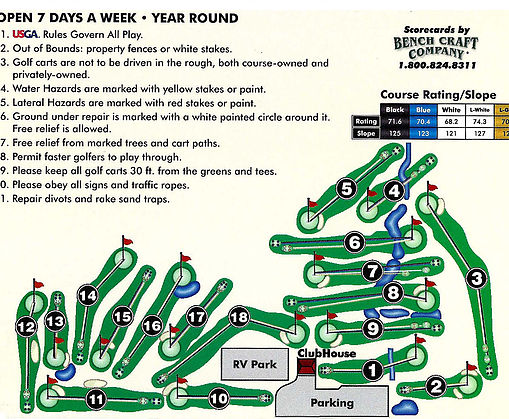 Sage Hills Golf Course was built in the early 1960's, originally as a private club. It has been open to the public for over two decades.
Sage Hills Golf Course is located just 15 miles south of Moses Lake, in the heart of the Coulumbia Basin. Situated amidst the sand and sagebrush you will find an oasis of lush green fairways, mature trees, and perhaps the finest greens in Eastern Washington. This championship course offers 4 sets of tees to challenge all golfers. The course rating is 70.2 and the slope is 121.
Our Pro Shop is stocked with everything from golf equipment to apparel. Power & pull cars are available as well as rental clubs. The Sage Bar & Grill is on site. Banquet type service is also available for large groups and tournaments.